The editors of JollofNews and Jamaano as well as Mafugi Ceesay have been lined up by the editor of The Trumpet newspaper as defense witnesses in his defamation trial.
Mr. Fabakary B. Ceesay will return to the High Court in Banjul next month as his defamation case proceeds.
Messrs. Yusupha Cham, Lamin Njie, Momodou Justice Darboe and Mafugi Ceesay have all been listed as defense witnesses.
However, two of the witnesses listed by The Trumpet editor went bonkers when they saw the list.
Mafugi Ceesay and JollofNews managing editor Yusupha Cham were infuriated and baffled by Fabakary's decision to name them as his witnesses.
"What do I have to do with a defamation case. I think Fabakary should come to the realization that he bears the burden to prove the accuracy of his articles not me. I think that sums it up. I was only involved with him through my editor-in-chief, who had a working relations with him. If anything, I was only trying to save him from going to court," Mr. Cham added.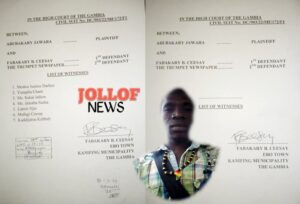 Meanwhile, JollofNews editor-in-chief Momodou Justice Darboe has expressed his keenness to testify in the case.
Darboe and Cham were very busy behind-the-scenes to convince Dr. Abubakary Jawara to drop the case against Fabakary.
More Details On The Peace Talks Later…..