As domestic fires continue to cause destruction and destitution, the Amir of Ahmadiyya Muslim Jamaa't has appealed for collaborative effort in cushioning the impact of fires on families.
Amir Baba F. Trawally underlined the need and urgency for support to government's recovery efforts in the aftermath of disasters such as fire outbreaks and floods.
On Thursday, representatives of three fire-hit families were at the HQ of the Ahmadiyya Muslim Jamaa't in Tallinding to receive relief items from Humanity First.
Kaddy Jallow came from Kitty in West Coast Region to receive the food items on behalf of Kitty Boarding School, where a six-year-old boy died following a fire outbreak.
Another woman travelled from Wellingara to receive food items on behalf of a family that was still reeling from a destructive fire that left an elderly man in a critical condition.
Amir Trawally also the Chairman of Humanity First-The Gambia, stressed in a gathering organized to deliver the food support to three fire-affected families, that the time has come for the well-to-do to help the less-well-off.
"It's time for those, who have plenty, to help those with less. Islam is about service to God and humanity. Those, who have the means, should make sure they help others. This is the purpose of Humanity First," he added.
According to Chairman Trawally, Humanity First is a registered organization, providing humanitarian support in almost 60 countries around the globe.
He gave Kitty Boarding School the assurance that Humanity First and the Worldwide Ahmadiyya Muslim Jamaa't were with the school in mourning the death of one of its students.
"We are very much saddened by the news," he explained.
He also informed fire victims of the "sadness" of the Head of the Worldwide Ahmadiyya Muslim Jamaa't on the destructive domestic fires, especially the Kitty boarding school fire.
Amir Trawally reemphasized his appeal to the wealthy to provide shoulders on which the poor can cry upon.
"We call on the wealthy to support the poor. The Prophet brought two things; worship and service to humanity. So, we should be willing to assist without distinction," he added.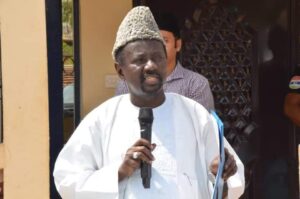 The regional disaster coordinator for West Coast Region Modou B. K Ceesay thanked Ahmadiyya Muslim Jamaa't for "lubricating" his work.
"When I was newly transferred to West Coast, the Jamaa't was the first to invite me for distribution of food items and cash to 30 flood-affected families in Jabang. And today also, West Coast Region is privileged with another humanitarian support. So, on behalf of NDMA and the regional disaster management team, I thank the Humanity First for their support to three families affected by domestic fires recently," he stated.
Mr. Ceesay meanwhile called on the population to be cautious of fires.
The representatives acknowledged the support and said the items will hugely support their recovery.
Bags of rice, onions, gallons of oil and envelopes were given to the families.