Gambia's ambassador to Russia has threatened to go down the legal lane with anyone "bent on tarnishing" his image.
The newly-appointed ambassador told JollofNews that he was ready to exercise his "right" to sue anyone for any attempt to put his name in disrepute.
Ambassador Ebrima Ceesay has been compelled to fend off allegations against him that his newly-wed wife was someone else's sweetheart at the time of their engagement.
"I have the right to take anyone to court for tarnishing my image," he told JollofNews when contacted to shed light on reports that Kaddy Fofana was married to someone in the US but was snatched by him.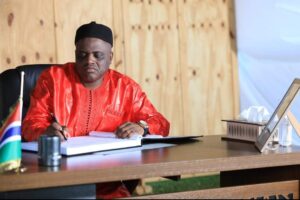 He stated that the lady was divorced for months before their marriage.