Commissioner of Police Pa Alieu Jawara still has some explaining to do as his name continues to pop up in a JollofNews investigation over possible destruction of evidence.
Investigation launched by this medium over "destruction" of evidence, led to police Commissioner Jawara and officer Yorro Saidy of Sukuta police station.
The former managing director of Gampetroleum, Saikou Drammeh, has reportedly transferred several mega-bite worth of implicating evidence against senior police officers, including the IGP.
Mr. Drammeh was said to have claimed in some of his recorded telephone conversations that he had the backing of people in top positions of trust and responsibility such as in the police service.
Meanwhile, JollofNews is still investigating the report that Commissioner Pa Alieu Jawara and officer Yorro Saidy had connived to "destroy" evidence that suggested that Khadijah Kebbeh was ready to pay a bribe of D1.2m to secure Saikou Drammeh's release from custody.
There were other suggestions that Commissioner Jawara and officer Saidy had obliterated several pieces of evidence of huge value to the theft case against Saikou Drammeh as well as overwhelming evidence of Khadijah Kebbeh's willingness to "grease palms" for Saikou's release from custody.
It would be recalled that Saikou Drammeh was arrested sometime last year and placed under police custody before his trial over theft.
He was acquitted and discharged after a hasty and roundly criticized trial.
Government said it was going to seek judicial review of the case but nothing spectacular has so far happened.
Commissioner Jawara has meantime told JollofNews that he never dealt with Khadijah Kebbeh's case.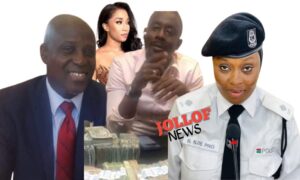 "I am not involved in the Khadija Kebbeh investigation. Of course, it's police that are Involved but, you know, we have different units," he stated.
"I would advise you to contact the police PRO. She is the most appropriate person to deal with such questions," he added.
Officer Yorro Saidy said he could not comment on the matter and as a result, referred JollofNews to the police spokesperson.
The police mouthpiece Cadet ASP Binta Njie has yet to respond to our requests for clarification.