The UDP leader has suggested that Gambian sports minister Bakary Badjie has failed to capitalize on his Cabinet portfolio to prove his worth.
"You are all witnesses to the transformations Talib Ahmed Bensouda succeeded in bringing to the Kanifing Municipality. Nobody in this country can contest that. Anybody in his right thinking mind cannot replace Talib Bensouda for anybody," Hon. Darboe told the people of Kombo South, who turned out in Gunjur on Saturday, for a celebration of the victory of Kebba K. Barrow in the last general election.
The UDP SG hinted that Bakary Badjie has failed to use his Cabinet position to convince the masses that he is the man for the KMC top job.
He continued: "A person, whom you know, have not been tried. What I heard… if that's the fact…what I heard…if that's the truth, he has not proven himself at the ministry of youth and sports. So, why do you want to entrust an important council like Kanifing…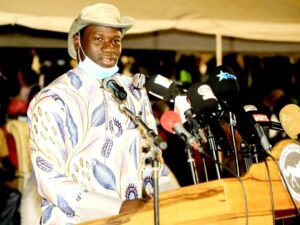 "This approaching council elections require a sober reflection. Despite the partisan considerations, we should be able to distinguish between who can and who cannot do the job. And that way, you will be doing a lot of service to your country."