The tranquility of Fass Njaga Choi village was disrupted yesterday by armed robbers that unleashed an attack against Gambia's Police Intervention Unit (PIU) checkpoint, and wounded one officer.
In response to a request for comment, Cadet ASP Binta Njie – Jatta told JollofNews that the sad turn of events happened in the early hours of Sunday.
"One of our men was shot and a shop opposite the check point was broken into and a sum of 30, 000 CFA francs taken away," she added
Over these past years, banditry on North Bank Region (NBR) has taken an unexpected turn as armed robbers are increasingly causing havoc in the region. In August 2017, a similar attack took place near PIU checkpoint in Essau when a group of heavily armed thieves stormed Hajo Jarra Pharmacy.
As fears are mounting in the are, she assured that heavy Police force was deployed to ensure safety and security in Fass Njaga Choi and beyond.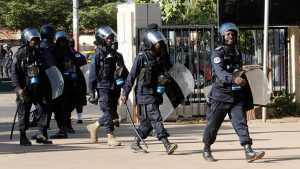 "One suspect is so far arrested," she revealed while indicating that the suspect is helping investigators to unearth the truth.