The deputy spokesperson of the NPP said PPP was whittled from the NPP coalition because the executive felt those in the Gambia's oldest party were spent political forces and that PPP had no base.
Seedy Njie also the House deputy speaker accused some NPP executives of hypocrisy, saying the decision to sideline PPP was a collective one.
He pointed an accusing finger at Dou Sano and NPP's campaign manager Lamin Cham for "orchestrating" the ostracization of PPP by the NPP alliance.
In a leaked audio obtained by JollofNews, Seedy Njie disclosed:"I was among the proponents of the inclusion of PPP, NCP and GPDP in the NPP alliance but you were the ones opposed to my position. And, as recent as this local government elections, I was pushing for the engagement of our partner parties. I mentioned PPP, NCP, GPDP…Lamin Cham was the first person to ridicule me and said no…those people are spent forces and had no base. You Dou Sano, you were there and others, too. And, you people supported him. I swear that you were the ones who said so (PPP's political irrelevance)and continue to promote that view at the national executive level. If you had listened to me, the problem would've not festered to this point. And you the national executive members, who were going around, saying it's Seedy Njie, who loathed the PPP. I swear, I was the proponent of the engagement of our partner parties but I'm too civilized to brag about what I did. That's not important. I'm part of an organized organization and I accept the policies, rules and regulations of that organization. So, I will not disobey any decision of that organization or be going around, revealing names of those, who did not agree to the idea of embracing our partner parties or who did what. That's incompetency, hypocrisy and insubordination. I will never do that. If you had listened to me at the outset when I was pushing for the engagement of our partner parties like the NCP, PPP and GPDP, the issue would not have reached this stage. However, Lamin Cham, Dou Sano and others refused. And you people believed it was better we engage only NRP and APRC. And, I agreed. I have no problem with what you said. It's my responsibility to express my opinion but at the end of the day, Allah knows and you people knew, too. What I said should be cast in stone. No matter how long it takes, people will say Seedy Njie has said this."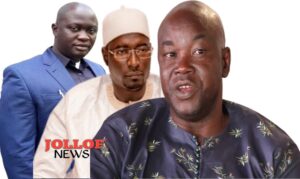 Hypocrisy
The NPP deputy spokesperson also accused some NPP executives of hypocrisy.
He added: "Some of these executives are calling each other, making wild claims. All this is hypocrisy. They are encouraging PPP supporters to ridicule me. We the national executives knew what has transpired. You see, when you are in a position of trust, you should maintain that trust. Don't breach that trust. Being a member of a national executive of a party is a privilege that must be protected."
Insubordination
The deputy House speaker meanwhile accused some NPP executives of recalcitrance.
"Those executives, bandying false allegations against me, were the same people rebelling against the party leader. Whenever the party leader said something, it was the same executive members, who were running around, telling party supporters to rebel against the leader," the NPP deputy spokesperson claimed.
He continued:"They were the same people, inciting others to ridicule me. That will not ruffle me."
Incitement Of Hatred
Seedy alleged that some NPP executives have been working in cahoots with some UDP members to ridicule and incite hatred against him.
"They were the same executive members, spreading the rumours that Adama Barrow wanted to appoint me this or that just to sow seed of discord between the President and the people. It's ill-intention but all that did not move me anywhere."
Find out how Seedy was feeling about NPP's West Coast regional chairman Lamin Jatta, the wrangling in the NPP and other issues in our subsequent articles.