President Adama Barrow, on Friday, the 24th of February, presided over the swearing-in ceremony of five Commissioners to inquire about the conduct of Local Councils following complaints and non-adherence to legal rulings on administrative matters.
The Commission members, Jainaba Bah Sambou, Samba Faal, Oreme E. Joiner, Sukai Secka Sanyang and Alhaji Sillah, took oaths of Office and Secrecy.
Commending the members of the Commission for accepting to perform the task, the President reiterated his Government's commitment to addressing corrupt practices at all levels of public service delivery while urging the Commission to indulge judiciously and professionally in gathering facts on the conduct of the councils.
Recognising his Government's responsibility in establishing the rule of law, the President asserted his position stating, "Guided by Section 200 of the 1997 Constitution of the Republic of The Gambia, I deem it necessary to establish a Commission of Inquiry to investigate the alleged irregularities."
The Commission has three months to investigate and present its report to guide Government in adopting relevant policy and administrative options.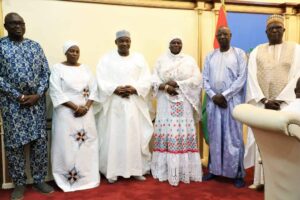 The Chairperson, Jainaba Bah- Sambou, promised to carry out the exercise with the rest of the members and thanked the President for his trust.
(State House)