Former presidential affairs minister Momodou Sabally has admitted to receiving Dr. Abubakary Jawara in his (Sabally's) house but he denied receiving any cash from the business tycoon.
The defamation trial involving Sabally and Dr. Jawara proceeded on Friday at the Banjul High Court presided over by Justice Bakre.
The lead attorney for Dr. Jawara, senior counsel I. Drammeh, cross-examined the one-time presidential affairs minister on a wide-ranging issues, including his revelation last week that he helped thwart the forfeiture of the businessman's property by the former Gambian president.
"You told us when you were here last Friday that you did a favour for the plaintiff when the former president wanted to take his land," counsel Drammeh refreshed Sabally's memory.
"Yes,"Sabally remembered.
"You called the plaintiff in China," the counsel told Sabally. She continued: "I am putting it to you that you called the plaintiff in China and told him to come."
"That has never, never happened," Sabally strenuously denied.
But counsel Drammeh pressed on.
"I am putting it to you that when you called him (Dr. Jawara) to come, he did and he met you in your house as instructed," said the counsel.
"I never instructed him to come from China," Sabally dismissed. He then added: "He came to my house with his sister, who knew my wife."
"That sister is Fatoumatta Jawara," counsel tried to remind Sabally.
"Yes," he agreed.
She then argued: "I am putting it to you that when he came to your house after he came from China, you told him that the president wanted to take his land. And then you went into the bedroom and said you were calling the president before coming out after a while and said you solved the problem."
But Sabally disagreed.
"That's not true," he responded.
" I knew it's true but you said you called him," counsel fired back. She added:" And the plaintiff gave you $3000 on that occasion."
"That's totally false," denied Sabally before adding;"completely, totally false. He never gave me a butut and this meeting happened in my living-room with his sister and my wife. He never gave me a butut. When he explained the matter to me, I went to the president and told him, here is a young man, who wanted to invest. But the president said he gave him the land and the land was…no investment. And, I told the president to give him a grace period."
"I am putting it to you that Mr. Sabally, you don't have that type of influence over the president," senior counsel Drammeh disputed.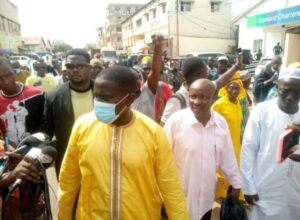 Sabally laughed and responded:" I did have that influence."
According to him, his influence over the former Gambian leader has reached the level that he was able to help in the freeing of prisoners with the help of former IGP Yankuba Sonko for the "common good".
"When he closed The Standard, I appealed to him and used that influence to open The Standard and I did it for the common good," he added.
At that juncture, counsel digressed to remind Sabally of his acknowledgement of meeting Dr. Jawara on many occasions.
"Yes, yes," Sabally remembered.
The counsel then said: "Now, one of these places is Fatou Golden Plaza. When you went to Fatou Golden Plaza, you asked him (Dr. Jawara) D70,000 because you could not pay your rent and he gave you D10,000."
"That's not true," said Sabally.
"You were asking for loan not help,"stated counsel Drammeh and she added: "You also went to his house on number of occasions."
"No," replied Sabally.
TO BE CONTINUED…