The GPDP leader Henry Gomez has been shunning the limelight since his party began losing relevance to the NPP grand coalition in the aftermath of the 2022 legislative elections.
Mr. Gomez's virtual withdrawal from frontline politics followed the embarrassing and shocking showing of the NPP coalition in the National Assembly elections.
His almost fanatical support for President Barrow was highlighted in his wholesale endorsement of everything and anything that came from the President.
It wasn't ages ago when he took to the airwaves to warn Gambians that anyone, who dared hit the streets in an "unauthorized" protest, would be treated like a rebel.
Gomez has carved a niche for himself in taunting and castigating veteran opposition leader Lawyer Ousainou Darboe and the UDP.
The GPDP leader was also never boring when he talked to journalists and addressed media.
However, it would appear boredom has now crept into Mr. Gomez's political life.
He reportedly shifted to the fringes when NPP campaign manager Lamin Cham and influential party official Dou Sano thought it was time Henry and his GPDP were bade farewell "because GPDP was a political featherweight".
Before the NPP officials finally emptied their chests about GPDP's strategic significance to NPP alliance, the party was already playing the second fiddle to other coalition partners.
"Henry was already deflated well before signs emerged the GPDP would be dumped," a dependable source told JollofNews.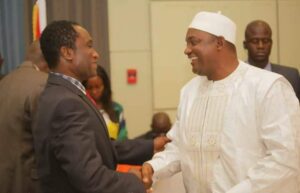 "Henry has been demoralized and long felt he was debased by the NPP alliance but was just carefully treading the path. I think he will now muster the courage to articulate his position, regarding the approaching local government elections," our source added.
Mr. Gomez meanwhile has not responded to our efforts for comments from either him or the GPDP as regards some of the issues raised.