The Inspector General of the Gambia Police Force (GPF) is accused alongside other senior police officers of trivializing a case of burglary reported to the police by a Gambian lady.
Mariama Jallow is still shocked that the police are unable to make any progress in a burglary case she filed.
In September of last year, Mariama's house was broken into and her two mobile phones and D11,000 stolen therein.
The incident occured at around 3am and one hour later, she ran barefoot to Sanchaba police station to lodge a complaint.
Despite being distressed and in fear of her personal security and safety, she was asked to wait for the daybreak to formally lodge the complaint.
This was her first disappointment with the police because she thought the officers would've intervened swiftly as the burglar could've been lurking in the neighbourhood and ready to strike again.
Tracking The Thieves Down
The robbery occurred on 6 September 2022, and the next day, one of the suspected thieves was speaking to Mariama's neighbour at the other end of one of Mariama's lines.
"The guy claimed that someone brought stolen phones to his boss but he could return them if I pay D15,000," Mariama told JollofNews.
"I was willing to pay the money but he said he didn't trust me. I proposed to send a ten-year-old child to deliver it but he said he did not still trust me because I may involve the police. He was pestering me with barrage of phone calls for the transfer of the sum," she added.
Yonna Money Transfer
When all options failed, the guy later identified as Adama, suggested that the money be sent via Yonna money transfer. And, this was done.
"One Musa Jarju used his ID card to receive the money. He was paid D1500 .And through the receipt, we went to Yonna, Q-cell and the immigration department," explained Mariama.
Arrest Of Musa Jarju's Girlfriend At Indian Plywood Company
The subsequent investigation led to an Indian plywood company at Kanifing.
Musa's girlfriend, Haddy Secka, was working at the company few days after the theft when she got informed that she was wanted by the police. She cooperated and led the investigators to her boyfriend. Musa also led them to a certain Adama Njie.
"On the whole, Adama was the one communicating with us via phone. When he got arrested, he denied being the one at the other end of the phone, making demands," Mariama recalled.
Blackmail
When the money was transferred, Adama texted me to say he was just hoodwinking me because the phone wasn't in his custody.
"He said he navigated through the phone and will expose me if I report the matter to the police," Mariama explained.
Alleged Involvement Of Dwarf Dawda Corra or Suu Tunkune
According to Mariama, Adama informed him that the phone was brought to him by Suu Tunkune to remove the eye cloud.
"But Adama, being so greedy, saw an opportunity to make money and he cashed on it.He threatened me with exposure and nagged me with money demands," Mariama told this medium.
Suspected Police Collusion
Mariama's two phones marked 13 Pro Max and FX Max as well as her D11,000 stolen in the robbery were miraculously recovered.
But the police were not "keen" on taking the matter to court.
"One of the CID officers at Sanchaba police station, Awa, said one of the suspects was her classmate and that it was ideal to settle the matter out of court. I was disheartened by this, considering my gender and the dangers that these criminals posed to my life," the visibly disappointed Mariama recounted.
"The SO of Sanchaba was a good man. He advised me to take legal action but they delayed the file at Sanchaba police station for more than a month. The boys were left to roam the streets without any bail condition attached to their freedom," she added.
Romantic Advances
As Mariama despaired of the willingness of the police to build a cornerstone for her case, a "call came from one Secka" of Sanchaba police station one fine day.
"Secka told me the file has been transferred to Brusubi police station and would like me to come over to Sanchaba police station. When I arrived there, he was alone in the office," Mariama explained.
She continued: "He asked whether I was married and when I responded in the affirmative, he vowed to snatch me from my husband. He thought I was that kind of debauched women. He even wanted to hand over the exhibits to me but I refused to take them back. He said he could help with good marabouts to fight my case."
Frustrations At Brusubi Prosecution Office
Undaunted, Mariama telephoned officer Bojang of Brusubi Prosecution Office upon being told by Secka that Bojang was responsible for her file. When she met Bojang, he vowed that the crimes would not go unpunished.
"He asked whether I was interested in going to court and when I responded in the positive, he asked me to be present at the court on Thursday. I went to the court at 7am that Thursday but nothing happened," she narrated.
Mariama got more exasperated when she learnt that officer Secka had never travelled to Soma for a funeral; a pretext used for the lack of progress in the case.
She added: "They said the case could not proceed because they got only my file and were not in receipt of other files. They said the file was in the office but that my phones and money were in Secka's house. I asked how was this possible when they safe-kept exhibits for more than five years. This question was followed by a strange silence in the office as their spirits were visibly dampened. Even their boss, Bittaye, was strangely silent."
Surprised Call from Secka
Twenty-five minutes after the embarrassing encounter, Secka was reportedly on the line ostensibly offering apologies to Mariama.
He then arranged for a meeting after appearing shocked at Mariama's information that he has reportedly travelled to Soma.
Mariama recounted: "I grew suspicious. He then asked that we meet at Sukuta Traffic Lights so we can go to Serekunda Black Market to retrieve the phones' email addresses. Guess what! When the man, whom they approached at the Black Market couldn't help, they called in Adama Njie to help. I asked Secka why was Adama roaming the streets when he was supposed to be restrained. When I confronted Bojang with the claim of Secka, having travelled to Soma and his call 25 minutes afterwards, he couldn't say anything and I grew more suspicious."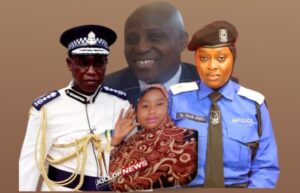 Secka's 'Claims' Phones & Money Stolen from His House
Mariama said she received a call from Secka, requesting for a meeting at Brufut Turntable.
"When we met there and got on to a discussion, he started to apologize and asked for forgiveness. He said they (police) were refusing to come clear but the fact was that the two phones and the money were stolen from his house. He requested for two weeks to recover them but I was flabbergasted. Shocked. I couldn't believe what I was hearing. His every word rained down like a bolt of thunder. When the matter was taken up, Bittaye confessed to having advised his colleagues to tell me the truth but they refused. I told him but when they lied, they did it in your presence. He got irritated and my suspicion became profound.
Inadvertent Speaker Call
Mariama still described as a stroke of fortune when she was in Bojang's company and a call came through from Secka and the phone was on speaker.
She further recounted: "Secka called to tell him whether he was aware of the full scale of this problem. He warned him that he (Secka) would not go down alone if heads were to roll. He told him that we were all in this and should avoid missteps that will make them bury their heads in shame whenever they encounter each other in the streets. The phone was all the while on speaker. The more he tried to lower the pitch, the higher it grew. When he hung up, he advised me to not go to the courts as he was ready to help with a marabout to help me out. I told him I didn't need a marabout as the police should be my best marabout in this instance. Secka was suggesting that the boys can go to court without the exhibits. Bojang retorted by telling him that he was naive in his thoughts upon which, he told Bojang to think about how he can kill the case."
Never-ending Excuses
Mariama explained that she was invited to the courts on several occasions but the police would tell her that the case could not begin for either lack of evidence or absence of the suspects.
Matter Taken High Up To Comm. Pa Alieu Jawara
Having lost fate in the Brusubi Prosecution Office, Mariama agreed to take her case high up to the Commissioner of Serious Investigation Unit, Pa Alieu Jawara.
"When I reported the matter to him, he looked so disappointed and promised to do something about it. He said Secka will be criminally held liable. I was relieved because I thought the higher echelons of the police were committed to doing something about it," she narrated.
Arrest Of Secka
Secka was subsequently arrested.
Mariama narrated: "When he was brought in, I was asked to leave. I thought they'll finally do something. When Secka was brought before the IG, Commissioner Jawara, his deputy and others, they promised that Secka would be dismissed and compelled to bring back the phones and the money. I thought the IGP would have done something about my case in view of my gender. Commissioner Jawara's reply to my last text message was that they will do something about it."
Both IGP and Commissioner Jawara advised JollofNews to always contact the police spokesperson on issues, relating to the force but Cadet ASP Binta Njie was unavailable up to the time of this post.