First Lady Madam Fatoumatta Bah Barrow has said the Covid-19 pandemic increased the number of dropouts among schoolchildren in The Gambia.
She made the disclosure at the recent launching of the Zero Out of School Children in The Gambia project at the OIC Conference Centre in Bijilo.
"Like many least developed countries, The Gambia faces many challenges in the area of education," the FIrst Lady said. "About 20% of primary school children and 53.6% of lower secondary school children are in fact more than the right age of their class level by two years or more."
She says over-age affects the organisation of teaching and learning leading to dropouts and "eventually surges the number" of out-of-school children.
"Another significant challenge in the education system is the low level of foundational numeracy and literacy of children, which has been compounded by the Covid-19 pandemic that led to school closures and loss of valuable contact time," she noted, saying the resultant learning crisis caused by the pandemic became a major drive in the increased number of out-of-school children.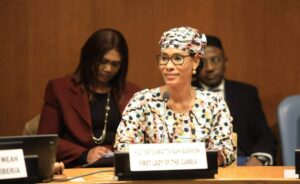 The First Lady said she however has no doubt that with the support of valuable partners such as Education for All, through their 'Educate a Child' project, the country is in a better position to overcome not only challenges related to fundamental numeracy and literacy but also to ensure that no child is left behind as far as access to school and learning opportunities are concerned.