A faction of the Alliance for Patriotic, Re-orientation and Construction (APRC) party, which still recognises former president Yahya Jammeh as its supreme leader, has backed the nomination of 42 independent candidates for the April-May local government elections.
The faction, aka APRC Babili Mansa, opposes the political alliance formed with the incumbent National People's Party (NPP) by other members of the APRC.
The Independent Electoral Commission (IEC) however officially recognises as a party the APRC faction that has formed an alliance with the ruling NPP, but not the APRC Babili Mansa, though the latter still insists it is the real APRC.
Hence the Babili Mansa faction, which has decided to nominate independent candidates, has promised to shame and defeat the APRC faction that formed the alliance and, by extension, the ruling party.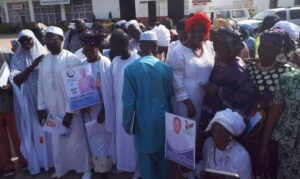 The APRC Babili Mansa has therefore nominated 23 independent candidates for West Coast Region, 16 for Kanifing Municipality and 3 for Central River Region.
For the KMC, the faction backed Omar Colley; for Abuko, Maimuna Badjie; for Bundung Borehole Bantaba, Buba Badjie; for Tallinding South, Sainabou Colley, and for Tallinding North, Alieu Sanneh.