Habib Ceesay, the United Democratic Party's councillor of Ebo Town and New Jeshwang ward, has filed for nomination in his bid to secure re-election for a second term.
A large crowd from Ebo Town and New Jeshwang accompanied the passionate councillor to the Kanifing Municipal regional office of the Independent Electoral Commission (IEC) on 23 March for nomination.
At the premises of the IEC, the UDP councillor tendered his credentials to the IEC regional personnel.
Ceesay may have to contest the seat with Tijan Jarjue of the Alliance for Patriotic Re-orientation and Construction (APRC), which is backed by the ruling National People's Party (NPP), Musa Bala Jarajuga and independent candidate Memba Gibba.
Meanwhile, eighteen other UDP candidates filed nominations. The party will, thus, be contesting all 19 wards of the Kanifing Municipality (KM) in the forthcoming local government elections in April and May this year.
The other candidates of the largest opposition UDP are Binta Janneh Jallow for Bakau New Town, Joko Fatou Njie for Bundung Mauritania, Ansuman Bayo for LatriKunda Sabiji, Famara Fofana for Kololi and Baba Jabbie for Fajikunda.
Others are Babucarr Jabbie for Talinding South, Lamin Ndow for Abuko, Karamo Ceesay for Tallinding North, Abdul Wahab Gaye for London Corner and Momodou Haruna Camara for Old Jeswang.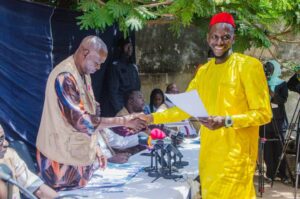 Furthermore, Musa Bah, Kebba Touray, Muhammad M. Drammeh and Lamin K. Jammeh are seeking nominations to run for LatriKunda Yiringnya, Kanifing South, Dippa Kunda and Bakoteh respectively.
The councillorship aspirants submitted proofs of their asset declarations, income tax clearances from the Gambia Revenue Authority, declaration forms, lists of supporters, party sponsorship letter and campaign itinerary, among other documents that were received by the KM IEC returning officer, Joseph Colley.