The Managing Director of the National Water and Electricity Company (NAWEC) has declared that over 700 communities across the Gambia will be electrified by his company by 2025.
"Our access level in the country is just a little above 4 per cent, but we are working hard by 2025 to increase access to our services up to about 85 per cent. It could even be universal access," MD Nani Juwara said while speaking at a press conference held on Monday 27 March to officially announce the increment of NAWEC's tariffs.
He therefore declared, saying: "Over 200 communities are going to be electrified in the next 2 years, and we are also upgrading the transmission and distribution networks. You have all seen what is happening with the 225 line and have also seen what is happening with Jabang substation
"We are also building a national control centre to be able to modernise our infrastructure, because for the first time, we will be able to control remotely our operations. You have seen how we struggle when we have outages, when people have faults on the network, how our teams will struggle to troubleshoot before they will address a particular problem."
With these investments, Mr Juwara states optimistically, it will make a big difference in terms of the quality of services NAWEC provides to its customers.
He added that heavy investments were also being carried out to improve the quality of its voltage in areas currently having some voltage issues.
The NAWEC boss also disclosed that a number of secondary transformers had been procured, which would be installed to improve the quality of the voltage in those areas, so that customers in those areas could also enjoy quality and reliable electricity supply.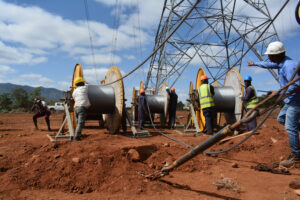 "These are all things that this utility needed to do but in the absence of the right tariffs, it is going to be impossible to do any investment because we cannot even maintain operations much more talking about investment," he justifies the increment of the new tariffs.