Gambia's health minister has disclosed that the Medical Control Agency (MCA), in collaboration with his ministry, is working to harmonise the country's medical regulation laws with the rest of Africa.
Minister Ahmadou Lamin Samateh made this disclosure yesterday at the National Assembly of The Gambia while responding to the report of the Assembly's Select Committee on Health, Disaster and Humanitarian Relief Parliamentary inquiry on the Acute Kidney Injury (AKI) that took the lives of many children in The Gambia few months ago.
"MCA is working in collaboration with the regulatory agencies in Nigeria and Ghana with regard to harmonisation of regulations," Dr Samateh said, adding that the country's MCA is already involved in harmonisation initiatives and programmes.
"Ministry of Health is also working to review the laws in line with the African region. A legal firm has already been hired to coordinate this process," the minister added.
In the same vein, the MCA is working with the Ministry of Health to have a QC (Quality Control) lab, he said: "We already have a firm doing the drawings and a firm for construction is being sought. The lab will also include food quality control component. The land is already available and construction work will start soon."
Veering onto the main Acute Kidney issue, which sparked public outcry across the country, the minister said: "The children are being followed up. They are receiving treatment from the health centre, and our agencies are equally in touch with the parents of the surviving children in terms of their welfare.
"They are being followed, and if any children in any critical condition needs overseas treatment, the government will definitely facilitate that."
Furthermore, Minister Samateh also confirmed to the National Assembly members that MCA has blacklisted and banned all Maiden Pharmaceuticals products since October 2022.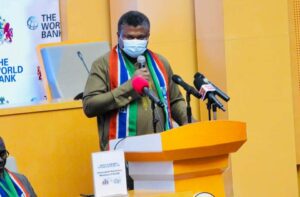 On strengthening MCA's capacity, the minister said the 2023 MCA operational budget has not been increased.
It would be recalled that more than 60 children died few months ago allegedly resulting from the use of contaminated cough syrups by India's Maiden Pharmaceutical.
The company has even raised more eyebrows when a court in Sonepat, India, in February 2023 found it guilty for exporting substandard drugs to Vietnam in a substandard Ranitidine hydrochloride tablets BP (Mantek-150) case that started since 2017.
The company's Director Naresh Kumar Goyal and Technical Director MK Sharma were both sentenced to two years and six months each and fined.