The management of the University of the Gambia under the leadership of Professor Pierre Robertson has constituted a panel to probe into allegations of sex and money for grade taking place at the university.
The development came on the heels of shocking reports by the media on a scandal of alleged trading grades for sex and money within the University of the Gambia (UTG).
A report by Whats-On Gambia even said the platform had a list of former lecturers engaged in the massive wrongdoing, as well as former and current students involved in the deal and whose marks had been increased as a result.
Dr John T. Mendy (dubbed the Pablo Escobar of UTG) is the main lecturer among the team of lecturers alleged to be involved in such misconduct and gross corruption.
In this regard, findings by the investigative panel will be reported to the disciplinary committee of the institution for subsequent actions to be taken.
Professor Sidat Yaffa, dean of the School of Agriculture, is reportedly the head (chairperson) of the panel constituted to investigate the scandal.
On the sidelines, the UTG Student Union has engaged the institution's authorities to establish the veracity of the concerns making headlines within the university community and beyond, according to a statement released yesterday by the union.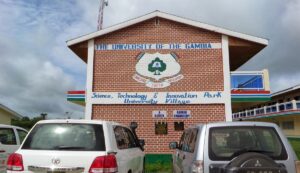 "Recognizing the fact that the matter is of utmost delicacy and sensitivity with potentials of tainting the university's reputation and discrediting the hard-earned certificates and accolades of many decent and industrious students of the university, the Students' Union took it with utmost seriousness and mounted systematic inquiry into the matter," the student body states, urging the management to expeditiously conduct the investigation and bring the results to light for actions to be taken.
The Union will continue to engage UTG Management and monitor the investigation to ensure "nothing is compromised" in the whole process of fact-finding, the statement assured.