Former Gambian interior minister, Ousman Sonko, who fled the country and went into hiding in Switzerland, has been accused of crimes against humanity in a Swiss court.
Switzerland's attorney general on Tuesday announced the charges against Mr Sonko, who was allegedly involved in the violent repression of the civilian population during his time as interior minister from 2006 to 2016.
Mr Sonko previously served as the commander of the country's National Guard. He was responsible for the security of former Gambian President Yahya Jammeh, who left Gambia in 2016 for Sweden and then to Switzerland, where he applied for asylum and lived undisturbed in a centre for asylum seekers for several weeks.
He was taken into custody in Switzerland after reporters tracked him down and alerted authorities to his presence.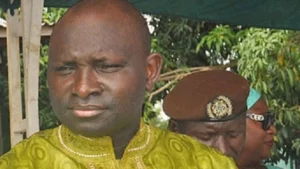 Swiss investigations into Mr Sonko lasted more than six years.
Mr Sonko "is accused, in his various capacities and positions, of having supported, participated in and failed to prevent systematic and generalised attacks as part of the repression carried out by the Gambian security forces against all opponents of the regime."
The Office of the Attorney General of Switzerland said in a statement announcing the charges.
(dpa/NAN)