The Gambia's Minister of Youths and Sports, Bakary Y. Badjie, on Sunday tendered his nomination credentials to the Independent Electoral Commission (IEC) to run for the mayoral seat of the Kanifing Municipality (KM).
Mr Badjie shall be running for the second time under the ticket of the ruling National People's Party (NPP), following his unsuccessful bid as an independent candidate in 2018 when he lost to the incumbent Mayor Talib Bensouda of the main opposition United Democratic Party (UDP).
Following the submission of his nomination papers to the KM IEC regional bureau, Mr Badjie said: "First, let me say Alhamdulillah for the successful nomination so far! Well, we are very hopeful that come May 20, the electorate in the Kanifing Municipality will definitely give me their votes for very many reasons.
"One of it is because they want change; they want something that is more progressive; they want a mayor who is responsive to people, open to people, somebody who would be able to understand the immediate needs of the people and work towards addressing them."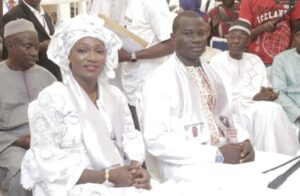 The Youth Minister-cum mayoral aspirant added that the people of KM equally want a mayor who is going to work in close collaboration with the central government to get support from central government to be able to provide better services to them.