Ebou Faye, National People's Party candidate for Banjul mayoral seat, has outlined waste management and flood mitigation among his prime priorities for Banjul.
"Our first priority is to address or mitigate flooding on Tobacco Road, London Corner and Lassu Wharf, as flooding continues to devastate Banjul," he said. "What we want to do is to make sure that we look into it, so that this time around flooding will not affect Banjul."
Mr Faye, who made this promise after tendering his nomination documents at the IEC regional bureau for Banjul on Sunday 30 April, also said: "We have the waste management system that we need to address. For four years, the council has been there, they have just two cabbage trucks donated by GPA [Gambia Ports Authority]. The council has collected over 500 million dalasis, with 345 million dalasis from revenue. Where has it been used in Banjul? We want to use those resources and transform Banjul."
The politician, who is also a football administrator, said he is unperturbed as far as his chances of winning the election are concerned. "I am a football administrator but I am also an administrator different from football. I have the necessary capacity, and I have the expertise and the skills to be able to take Banjul to another level," he said.
Mr Faye said he is very much sure he would win the election for the Banjul mayoral seat, adding that Banjulians could tell what he had done for them, as "it is an open secret for anybody who knows Banjul".
Faye stated that he is a seasonal politician, which is why he went back to doing his football administration after he contested and lost in the last election.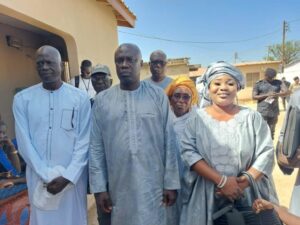 He also claimed that he loves test as an administrator, and that if he eventually wins, he would continue as a politician.
He further appealed to his supporters, saying: "I just want to let us be peaceful, as the political aspirants are all Banjulians. They are here to do a job for the people, provide and give services to the people. So we don't need to fight; we don't need to quarrel. Politics is not about that; politics is about serving the people, and we are here to serve the people."
Mr Faye was accompanied by a large crowd of supporters and allies, including the allied PPP candidate for the mayoral race in Banjul, Ebrima Jawo, who endorsed Mr Faye two weeks ago.