Gambia's Minister for Transport, Works and Infrastructure, Ebrima Sillah, has claimed that the governing National People's Party (NPP) would win in any election, even if the opposition parties' votes are combined.
"As far as the NPP is concerned, we have done everything within our means as part of preparations concerned to ensure that our candidate does not only win but wins big, and all hands are now on deck," he said after Seedy Ceesay, NPP candidate for Brikama Area Council chairmanship election, tendered his nominations papers to the Brikama regional office of the IEC.
The issue of low voter turnout that beset NPP in the previous polls, he noted, is now being robustly dealt with by the executive and the rank and file of the party militants, giving assurance that in the forthcoming elections, people would see a different NPP at the polls.
"Well, if you know the electoral statistics about the various political parties in this country, and from the last elections, you will agree that the United Democratic Party have never gone beyond 28%.
"Now if we are to go by that methodology, the 28% or less is their majority in the elections, and in all the preceding elections, you will also agree that almost 80% of their 28% actually voted in the parliamentary and local government elections.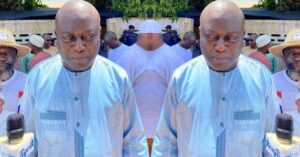 "Now, if you look at the 53% of the NPP voters that actually voted for NPP, and you look at the votes in the parliamentary and local government elections, you will see that only between 18% and 21% of NPP (supporters) went out to vote," the Works minister rationalised.
He added: "So it is actually 70 to 75% of the voters that actually did not go to vote that we are targeting for mayoral and chairmanship elections. That is why we are very optimistic. So the issue of NPP being the biggest is not an argument anymore. We are the biggest political party but voter fatigue actually beset the political party.
"So naturally, even if we go by the conventional wisdom of the data that is available, you will see that if we can go and assume the entire 28% of what UDP has been actually getting as votes and only 40% of us go out and vote, we will still sweep the polls because, all other parties combined, we will still see that NPP will be the party that will win."