Owing to the high level of mobile phone penetration in The Gambia, the country's telecom sector has been growing at a rapid scale over recent decades.
The sector's growth is characterized by a highly vibrant and competitive market and environment in which innovative products and services move very quickly in the marketplace.
Four mobile networks are in The Gambia – Gamcel, Africell, Comium and QCell. While Gamcel is state-owned, the others are private.
Also, the total number of active subscribers in The Gambia as of December 2020 is approximately 2.7 million subscribers, with Africell pulling over 62% – about 1.7 million customers.
The subscriber base for QCell is over 738,000, which represents 28% of the market share while Gamcel and Comium compete closely for third place with each having an approximate market share of 5%.
However, according to an expert, who spoke to JollofNews on conditions of anonymity, "the new mobile tariff by Comium has become a threat" to all the GSM operators in the country and "most of those operators are losing" their customers.
"Comium has been dormant for the past years due to a tax scandal, but after settling that, they have made a positive comeback that attracts huge customers of other GSM operators in the country," he rationalised.
Lamin Ceesay, a mobile user, has described Comium's new mobile tariff as the best as far as the business is concerned, because "they are competing" with other GSM operators in The Gambia.
To have more customers, he perceives, a GSM operator needs to come with a cheaper tariff that will attract customers.
"This is what we call competition in the business and now you would see that the other competitors have also come with another alternative in order to attract, retain and get more customers in the marketplace," he said.
Mariama Tunkara, who was found standing at Comium branch in Latrikunda, said she would wait or queue for as long as it takes to procure Comium sim card.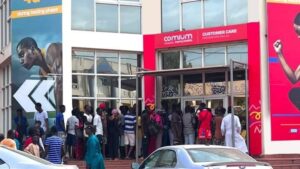 "This is because their new tariff is very affordable and their network very good," she said, adding that Comium's service or line had made communication faster and easier.
Famara Jammeh said Comium had offered "absolutely free internet, free calls in-country and internationally to its new customers who purchase a new prepaid connection.
"Whenever you buy a new sim, the company will provide you with free internet for one month, which can be used for internet, Facebook, Instagram and other social networks," Mr Jammeh said. "As a result, everyone wants to have Comium sim card."
For her part, Jainaba Kandeh called on other GSM operators to emulate Comium for better service delivery to their customers for the good of the people and the betterment of the company.