The High Court of The Gambia has set free Corporal Omar Njie, 4th accused person in the trial of alleged coup plotters against President Adama Barrow and his government.
The presiding judge, Justice Bassirou V.P. Mahoney, made this ruling today in Banjul on the 'No Case to Answer Submission' filed by lawyers representing Sergeant Gibril Darboe, Corporal Ebrima Sannoh and Corporal Omar Njie (3 of the 5 accused persons).
The 'No Case to Answer' submission was filed by the three lawyers after the prosecution closed its case, arguing a lack of prima facie case against the three accused persons.
However, the judge rejected the 'No Case to Answer' submission by the lawyers of Sergeant Gibril Darboe and Corporal Ebrima Sannoh. The judge stated that the two must open their defence because they had been mentioned by some state witnesses on occasions during their testimonies in court.
The remaining accused persons are Corporal Sanna Fadera, the alleged ring leader, and Sub-Inspector Fabakarry Jawara of the Gambia Police Force. They did not file a 'No Case to Answer'.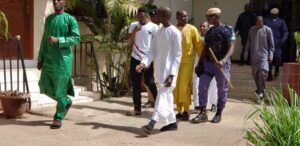 The accused persons, who are being indicted on two counts of treason, two counts of concealment of treason and a count of incitement to mutiny, were first arraigned around January 2023. Prosecutors said they were planning to overthrow the Barrow-led administration.
The matter was adjourned till Friday at 10 a.m. when Sana Fadera (1st accused) would testify as defence witness.