The Gambia Press Union (GPU), Media Council of The Gambia (MCG) earned plaudits from National Assembly auditors after they found that the "management of Covid-19 funds allocated to media houses has substantially complied with the laws and regulations that govern them."
In a much-awaited report released Monday by the Finance and Public Accounts Committee (FPAC) of the country's lawmaking body, auditors took the opportunity to set the record straight.
According to the report, an amount of GMD15,000,000.00 was endorsed by parliamentarians as COVID-19 relief funds for media houses, hit by the pandemic restrictions orders.
It then added that the Ministry of Information, Communication and Infrastructure was tasked with the responsibility to "manage the funds and distribute them amongst the media houses," including private or community media outlets – print, broadcast or online (newspapers, radios, TV, web).
"The money was later transferred to the account that was opened by the Gambia Press Union (GPU) as directed by the Grant Management Committee," the report said.
However, auditors deplored the fact the "confirmation of the funds disbursed to Media Houses showed that there were unused balances amounting to GMD585,159.86 from the total amount disbursed."
In light of the unconfirmed balances, the report further stated that the "auditors could not confirm if this balance was subsequently used or paid back to the account as bank statements to verify the balances were not provided."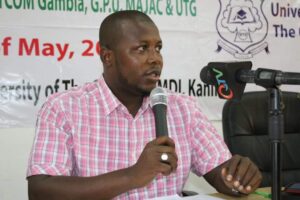 The report also put the spotlight on the non-submission of financial and narrative reports by the grantees while indicating that "no financial and narrative reports were received from some grantees contrary to the provisions of the grant agreement."
As such, the report went on, the auditors could not ascertain whether the fund received were used for the intended purpose.
"Full payment to media houses should only be completed after the submission of financial and narrative report."