Gambia's Adama Barrow has vowed to no longer entertain the 'unfounded' criticisms, attacks and insults being peddled by his opponents.
"Enough is Enough!" he exclaimed while making it very clear that he will draw lines on the sand.
Barrow made the pronouncement during a meeting held Sunday in Wassu, Central River Region (CRR).
"Anybody found wanting, will be dealt with accordingly," he lashed out.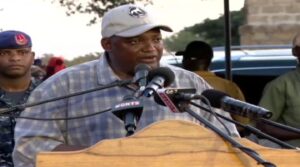 He further stated that the Police are going to be instructed so that appropriate measures will be taken against any offender.
"Some people are abusing democracy. They don't have right to do whatever."