The Management of the ferry services announced the death of a passenger believed to be a Senegalese national after he decided to 'throw himself in the sea'
In a press release issued on Saturday and seen by JollofNews, the Management of the ferry services revealed that the incident happened on November 16, 2023 at around 8:00 pm.
"The incident was reported to the Police Station upon arrival to Banjul terminal where the victim's neighbors, namely Alieu Camara and Kawsu Jabbi.
The duo who were traveling with Modou Sarr, confirmed to Police investigators that he mentally ill since 2011.
"Furthermore, the body of the late Modou Sarr has been found by the Gambia Fire and Rescue Services on the 17th of November 2023 at 6:00 pm.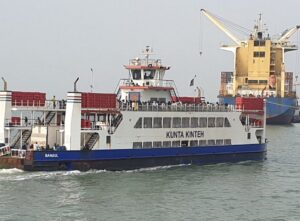 According to the Management of the ferry services, investigation is still underway as Police investigators are bent on shining a light on the sad turn of events.