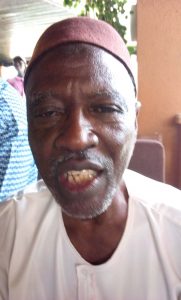 (JollofNews) – As controversy continues to mount over their TV license application, the Ahmadiyya movement leadership has vowed to keep a low profile until a decision is made by the public regulatory body. The movement's TV bid has been met with harsh reaction from the country's Islamic Council.
"We don't have anything to say about the Supreme Islamic Council. We have made an application for TV license, and we are waiting for a decision to be made by The Gambia Public Utilities Regulatory Authotrity (PURA)," the third deputy Amir of the Amidiyya Jamaat Alhagi Ebrahima Mbowe told JollofNews in an exclusive interview..
Last month, Gambia's Islamic Council has made it clear that it will "present a national petition objecting to the grant of television licence to the Ahmadiya Jamaat. By Allah's will, the petition will be forthcoming in the next few days." The council said in their news release the TV station could be used by the Ahmadis as a  "propaganda toool to adultarate the minds" of the Islamic community.
Mbowe said PURA has not yet given or denied them a license. "Our application is in process," he added.
The Islamic Council's move has sparked a lot of cristicism as many people are with the belief that their stance has no reasonable grounds.
Information Minister Demba Ali Jawo has taken to Facebook to express his disapproval describing as "derogatory" the statement made by the Supreme Islamic Council declaring the Ahmadiya Muslim Jammat as non-Muslims.
"The Gambia is a secular state and as such, the Constitution guarantees everyone the freedom to practice their religion the way they feel or even not to belong to any religious persuasion, as long as they do not infringe on the rights of other citizens," he said.
Jawo said the decision made by the Islamic council is not only retrogressive but it is also a threat to national cohesion.
Madi Jobarteh, a leading voice of the country's civil society movement, warned the Islamic body against "perpetuating religious bigotry" in the tiny West African nation.
Adding its voice to the chorus of recriminations, the Gambia Press Union (GPU) called on "PURA to process the application of the Ahmadiya Jammat in accordance with the principles of transparency, accountability, fairness, and participatory."
"The Union hereby testifies that the Jammat, through its schools and printing press, has made significant contributions towards media freedom and development in The Gambia," GPU said. "The Minister and PURA will be in violation of the Constitution and international law if it denies the Jammat TV license on the basis of religious differences."