Aspiring KMC mayor Mustapha Touray has been accused of factual misrepresentation following his utterances that his father was born in Serekunda.
Currently, Touray has his eyes set on the KMC mayoral seat but his chance of reaching it through the NPP has been fading fast as it was reported that the party had proposed to sports and youth minister Bakary Badjie to bear its torch in the Kanifing Municipality in the incoming Gambia's local government elections.
In 2019, Touray tried unsuccessfully to run on UDP ticket for KMC and as a result, decamped to the NPP.
In his latest attempts to win hearts and minds of KM voters, Touray has since launched a campaign against KMC's Talib Bensouda, describing him as Mballit (garbage) and flower mayor thanks to the young mayor's successes in distributing 19 waste collection trucks to the 19 wards of the Kanifing Municipality as well as the beautification of Westfield with flowers.
In a bid to bolster his chances of contesting KMC mayoral seat, Mr. Touray has been telling people that he's a son sired by a man born in Serekunda.
However, sources that spoke to JollofNews traced the birthplace of Touray to the coastal town of Gunjur.
"Mustapha Touray is misrepresenting the facts here. His father hailed from the religious Kombo South coastal town of Gunjur," a source told JollofNews.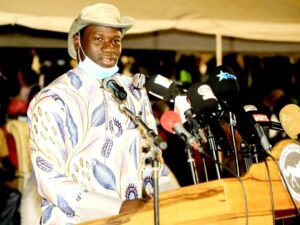 "Mustapha Touray is related to the independence fighter Alhaji Nfamara Wassa Touray. They are all descendants of Foday Kombo Sillah Touray; the famous jihadist," another source added.
"Mustapha was born in Serekunda but his dad hailed from Gunjur Foday Kunda. He moved to Serekunda and got married to Mustapha's mother there. Actually, Mustapha's mother was born in Bundung," another source added.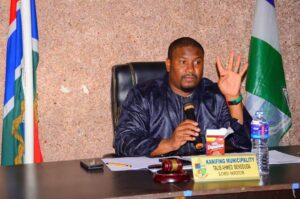 Meanwhile, Mustapha Touray has insisted that his father was born in Serekunda.