After propping up the fertilizer price beyond the purchasing power of many farmers in the outgoing farming season, the Gambian leader is now going round the country, telling farmers they needn't worry about the cost of fertilizer next rains.
Despite the many hues and cries from the farming community, the Barrow administration obstinately refused to revisit its decision to astronomically increase the fertilizer price.
A 50kg bag of fertilizer, which was trading at D700 in the previous cropping season, has leapt to D2000.
Government attributed the prohibitive cost of the input to the disruption caused to global supply chain by Russia's invasion of Ukraine.
Critics, however, cited procurement malpractices and other underhand tactics.
Meanwhile, in meeting some members of the farming community as he kick-started his whole-nation tour on Monday,Mr. Barrow attempted to placate an infuriated farming community by announcing that his government has agreed with Abuja to supply tons of fertilizer to Banjul next year.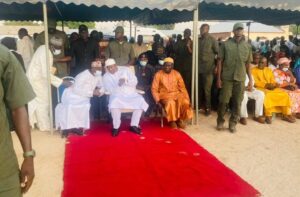 Meanwhile in Ndugu Kebbeh, President Barrow announced that this year's farm-gate price for groundnut is D32,000.
With availability of cheap fertilizer and other inputs, last year's farm-gate price for groundnut was D28,000.
Many farmers are meantime reportedly disposing of their nuts to middlemen ready to offer bigger, better packages for their produce.
However, Mr. Barrow is trying to convince farmers not to bypass the government in the groundnut trade.
"Sell your groundnut to the government as they(middlemen) will not give you fertilizer," he stressed at his Ndugu Kebbeh meeting.