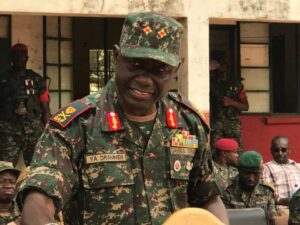 The Chief of Defense Staff has vowed that the military will go the extra mile to contribute to the stemming of blood shortage-related deaths in the country.
"The Gambia Armed Forces, over the years, we are the single, largest blood donors in this country. We do so with consent. We do so with a strong conviction that we owe it to every Gambian," Lt. Gen. Yakubu Drammeh said on the occasion of International Blood Donor Day on Tuesday.
"Giving our blood is what we can give out to Gambians. To say, we can go that extra mile to give you blood so that you can survive. Moreso, our sisters, mothers, the pregnant women, anaemic, people in traumatised circumstances.
We will always come out in large numbers to give blood," he added.
The Gambia Armed Forces (GAF) on Tuesday coordinated efforts in the north and south banks as well as the hinterland and the upper reaches of the country as part of the mobilisation for its traditional blood-giving.
This constituted part of the various events commemorating the blood donor day.
"Today, I'm here (Kotu), my deputy is in Banjul, one is in Bundung, General A.K Jah in Brikama," Gen. Drammeh pointed out.
He spoke of similar coordinated efforts in Bwiam, Farafenni, Barra, Bansang and Basse.
According to CDS Drammeh, since the significance of giving blood cannot be quantified, expressed in terms or measured, serving officers and soldiers of the Gambia Armed Forces (GAF) will remain at the vanguard position when it comes to donating blood.
"The importance of giving blood cannot be quantified. It cannot be expressed in terms of terms and it cannot be measured.
"That is why serving members of the Gambia Armed Forces will always champion the cause, will always take the lead.
We will come out in our large numbers to donate blood given the significance we attach to this important thing (blood donation)," Gen. Drammeh promised.