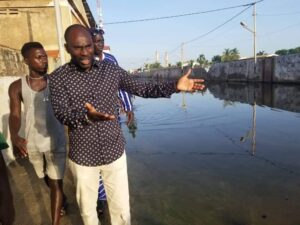 Essa Mbye Faal has called for urgent deployment of the army and other relevant agencies and institutions to flood-hit areas to provide immediate assistance to the affected people.
"These should include the provision of food, water, dry clothing and emergency medical assistance and even shelter for those who may need it," he stated.
Faal meanwhile encouraged government to institute plans that could be activated to lessen the impact of floods in areas in the Greater Banjul Area that are susceptible to flooding.
According to the former TRRC lead counsel, it's a public knowledge that certain areas in the GBA such as Ibo Town, Faji Kunda and areas of Sinchu are prone to flooding.
"I encourage the government to establish workable long and short term plans that could be activated to minimize damage to these flood-prone areas and offer relief to affected people," he wrote on his Facebook page following downpours on Saturday, causing floodings resulting in colossal damage to property.
Mr. Faal pointed out that flash floods, leaving in their wake extensive damage to property, interruption of essential power and water supplies, submerging of some places to waist length, making mobility virtually impossible, among other challenges, have increased in frequency.
"This in turn will cause food shortages in these areas. If the situation persists the disaster would deepen even further which may in turn help spread diseases," he pointed out.
He added:"People with mobility challenges and other disabilities are particularly more vulnerable in the present circumstances.
"I take this opportunity to express my heartfelt sympathy to all those affected. I feel your pain!"
While expressing the expectation that the 'necessary governmental intervention and assistance will be forthcoming sooner rather than later', the Sobeya leader encouraged all Gambians with the wherewithal to provide whatever assistance to the victims.
"With our collective support the pain and sense of loss will undoubtedly reduce and the togetherness and sense of belonging strengthened for a better Gambia," he concluded.