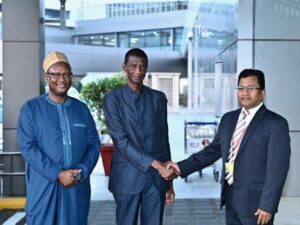 Gambia's Vice President Alieu Badara Joof is currently in India for a five-day visit where he is expected to participate in the Confederation of Indian Industry and EXIM Bank of India (CII-EXIM) Bank Conclave 2022 along with other bilateral engagements.
In a post on its twitter page, the Indian Ministry of External Affairs wrote: "Strengthening the partnership. Greetings to Vice President of The Gambia on his arrival in India. He is on a five-day visit to India and will participate in CII-EXIM Bank Conclave 2022, besides having other bilateral engagements."
The CII-EXIM Bank Conclave on India-Africa Project Partnership was launched in 2005 with the support of the Indian ministries of External Affairs and Commerce and Industry.
In the last sixteen editions, the Conclave has played pivotal role in encouraging Indian companies to establish and grow their footprints in Africa.
According to CII-EXIM Africa Conclave organisers, the upcoming edition will focus on project exports, trade, investments, and exchange of knowledge and expertise creating shared value for business and industry at large between India and Africa.
The two-day event will take place at Hotel Taj Palace,  New Delhi.