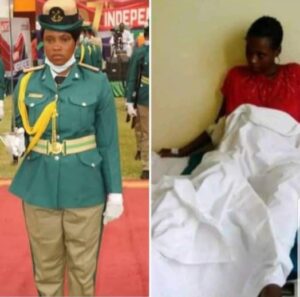 Sergeant Tida Manneh of the Gambia Prisons Services (GPS) is currently stuck in a Dakar hospital in a battle between life and death.
Ms. Manneh joined the prisons services in 2011 and rose through the ranks to sergeant.
However, in the last few months she started showing signs of a bout with severe stomach complication.
Her stomach started to swell up and she was flown to Senegal for medical attention.
Whilst in Dakar, her condition deteriorated and was recommended for treatment in Spain.
Meanwhile, her family told JollofNews she'd already secured a Spanish visa but she is stuck in Dakar because she has no money to pay for her flight ticket and that of her attendant's.
They are, therefore, appealing for public support to facilitate her travel to Spain.
Any individual, group or organisation willing to save Sgt. Tida Manneh's life can contact Yasin Kanyi on +32494171211.
Alternatively, anyone willing to help save Sergeant Tida Manneh's life can do so via the GoFundMe link below:
https://www.gofundme.com/f/help-save-the-life-of-sergeant-tida-manneh/donate