The Gambia Revenue Authority (GRA) has set for itself the ambitious target of generating over D15bn in revenue this year after surmounting numerous challenges to hit the D12bn target it'd set for itself in the previous year.
The lingering impact of Covid-19, high global fuel prices as well as the ramifications of the Ukraine war on the local economy posed a colossal challenge to the country's revenue agency's revenue mobilization efforts for 2022.
However, after embracing an intensive domestic revenue mobilization approach, GRA was able to weather the storm and it raised D12bn in tax revenue.
"We hope and pray that 2023 will be better. We have already set ourselves a target for 2023 and which is D15.2 billion. Depending on the circumstances, we should be able to collect that amount," Commissioner General of GRA, Yankuba Darboe, stated in a press conference on Friday.
Team Work
Commissioner General Darboe hinted that GRA did not fail to hit the 2022 revenue target because staff was working in mutually reinforcing manner towards its actualization.
"I have regular meetings with them to ensure that we all stay on one page to achieve whatever we want to achieve together," CG Darboe added.
No Tax Revenue Without Compliance
Commissioner General Darboe acknowledged the role of tax payers in the revenue authority's accomplishments for 2022.
"I also want to thank the taxpayers because without them, we would not achieve our target," the GRA boss recognized.
He pointed out that tax compliance cannot be achieved without the sacrifice of tax payers to pay up their taxes to oil the wheel of the government machinery.
Digitization
Sometime last year, GRA transitioned from ASYCUDA++ to ASYCUDA World digital platform to ease custom transactions.
"Every year, we try to improve on our system. So, we were able to collect what we collected because of the ASYCUDA World," the revenue mobilization chief pointed out.
Subsidies
Last year alone, the Gambia government paid over D1.6bn in subsidies to cushion the effects of international oil prices on the population.
"Those are monies that we should collect and that has a negative effect on our collection," CG Darboe explained.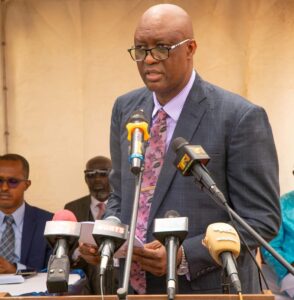 Duty Waivers On Roads Under Construction
The revenue mobilization boss also highlighted the "negative effect" on GRA's performance for 2022 due to the D2bn government duty waivers for some roads construction works such as the OIC roads.
"That also affected our collection because we were not allowed to tax them. So, we have about D3.6bn given up by the government on subsidies and duty waivers. We hope and pray that 2023 will be better," he stated.
CG Darboe added: "We have already set ourselves a target for 2023 and which is D15.2bn. Depending on the circumstances, we should be able to collect that amount."
He explained that GRA is receptive to new ideas to enhance its revenue mobilization capabilities.
"We are trying to get a new system called ITAC and the World Bank is supporting that process. As management, we are always open to new systems that would help us improve our revenue collection," he revealed.
The GRA boss talked about the protocol The Gambia signed with ECOWAS to exempt basic commodities produced in West Africa from taxation.
"That is why we are committed to come up with new avenues to help us improve our systems," he disclosed.
CG Darboe also spoke about plans to synchronize GRA, Ports and the Immigration on a single window to foster close collaboration in revenue mobilization.
He also touched on how the authority is putting in place robust monitoring processes for industries, regarding their output to avoid revenue leakage.