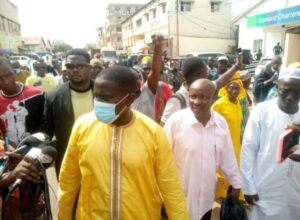 Justice Bakre of the Banjul High Court annex was on Monday morning trying to get his head around the level of public interest generated by the defamation trial of prominent Gambian opposition figureMomodou  Sabally initiated against him by the GACH CEO.
"So, this is why you have all this security around. Just a defamation case," Justice Bakre wondered aloud after noticing an unusual heavy security presence in and around the court's yard.
Riot police were thick on the ground and the tiny courtroom filled to capacity.
Multitudes of UDP supporters and well-wishers of Sabally thronged the court's periphery as they were not allowed anywhere near the court.
The paramilitary observed strict paper checks as to who should get near the court and not.
As the case was called, the attorney for GACH CEO stood up to say the integrity of the court was being jeopardized by certain utterances from the other side.
She then earnestly asked the trial judge to ensure respect for the court.
In his response, Justice Bakre,looking rather bewildered, said:"I would be shocked and I won't take it lightly. What kind of court would they be possibly talking about."
On the heavy paramilitary presence, Justice Bakre believed there was no need for it as anyone, who is not a party to the case, he said, should keep a distance.
"That's why the police are here? Which case? Defamation? I won't allow anyone to turn my court into…. Please file your processes, so that we can make progress," he stated.