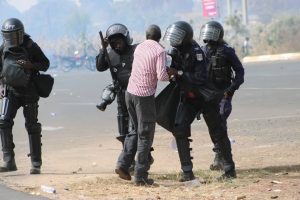 The comments made by the President in this video below that he asked his law enforcement chief to use violence against unarmed nonviolent citizens is unconstitutional and criminal. His decision tantamount to incitement to violence contrary to the Criminal Code and unbecoming of a president. In his comments, Pres. Barrow never said Three Years Jotna used violence or were violent rather he said there was a "quarrel" and then he asked for the use of violence as a final solution. This comments are indeed scary and reprehensible.
The right to protest, the right to political participation and the right to divergent and dissenting opinion are entrenched rights guaranteed by the Constitution. Therefore on what basis should the President ask the police to use violent means against a group of citizens who disagreed with him? Three Years Jotna group were merely exercising their constitutionally guaranteed rights and deserved to be protected by the President and the IGP, even if the President disagreed with them.
Apart from inciting violence, equally serious is the fact that the President made a very serious disclosure that he ordered the IGP to use violence when the President has no such powers. That order to the IGP tantamount to direct control and interference with the police contrary to the Police Act. The Act states that the IGP is not under the direction and contrail of any person or authority. Rather the IGP is guided by only the Constitution and the Police Act in his decisions and actions.
For that matter, by disclosing that he ordered the IGP to use violence on innocent citizens, the President is overstepping his powers by interfering with the police and is undermining democracy and good governance. If his statement was indeed true, the IGP at the time should have refused to carry out that order or resign. The IGP must be seen to be upholding the Constitution and the law at all times.
Therefore, as we head towards the election, I hereby remind the current IGP Abdoulie Sanyang that he is not required by law to take any orders from the President or the Minister or any other person in the execution of his functions. The IGP must realize that his terms of reference and powers and obligations are set out in the Constitution and the Police Act and other laws of The Gambia. The IGP must know the law and apply the law in the most professional, efficient, effective and just manner without fear or favour. That's all.
Meantime all political parties, CSOs and citizens should hold President Adama Barrow accountable for that unfortunate and illegal order he gave to the IGP in 2020 to violate the rights of citizens and incite violence. His actions tantamount to impeachment because he had severely violated the Constitution and put the name of the Office of the President into disrepute.
For The Gambia Our Homeland