Military gun salute is later today expected to be mounted for Major Buba Jammeh, who sadly passed away on Tuesday.
Major Jammeh was born in Gunjur in the Kombo South District where he received both his primary and secondary education.
He enlisted in the then Gambia National Army in the 80s as a soldier.
Major Jammeh,fondly referred to as Choba, served in the various battalions of the Gambia's military, including the Army HQ camp.
By dint of hard work and discipline, he rose through the ranks to major.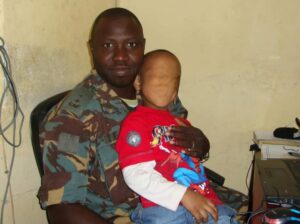 Meanwhile Gunjur is mourning a son, described by many within and without, as easygoing and respectful.
"Please join us in prayer for Allah's mercy and place his soul in the highest of Jannah,"writes Gunjuronline.
Major Jammeh lost the long battle against Diabetes at the EFSTH in Banjul last night.
Mourners in Gunjur meantime are later today expected to be joined by Major Jammeh's former comrades in the army and sister security agencies for the burial at the Gunjur cemetery.