Despite the overwhelming evidence of some HIV/Aids sufferers succumbing to death in Jammeh's Aids treatment, NAS boss was unsure whether the former Gambian President's medicines were effective in combating HIV/AIDS.
In the buildup to the World AIDS Day commemoration recently, NAS boss Alhagie Jarju told Coffee Time With Peter Gomez's Aji Jacob Khan in an interview that unless Scientifically tested, he could not comment on the efficacy of Mr. Jammeh's so-called cure for HIV/AIDS.
"No", he responded when asked by host Ms. Khan whether he knew one or two things about the potence of former Gambian leader's medicines.
Meanwhile, many are still shocked barely five days after Mr. Jarju expressed his position on Jammeh's cure for AIDS.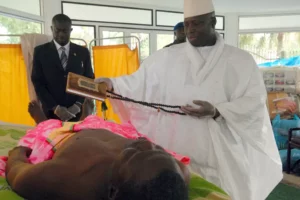 Though the AIDS Secretariat still advises traditional healers to refer cases of HIV/AIDS to hospitals, Mr. Jarju could not say whether the number of people killed in Jammeh's quackery could be indeed linked to the efficacy or otherwise of his medicines.