Many residents of New Jeshwang could be thrown into acute housing crisis as the Gambia's Department of Physical Planning is showing no indication of backtracking on its decision to demolish people's houses in the Serekunda suburb, JollofNews can authoritatively report.
The proposed demolition exercise is currently having a huge mental toll on residents as the prospect of them becoming homeless looms large.
Some community representatives will, in an hour's time, meet the Alkalo as part of last ditch attempts to persuade the government to rethink the mode and timing of the planned exercise.
According to reliable sources, residents are not entirely opposed to the planned demolition exercise but they want it done fairly.
"We are cognisant of the fact that government has the right to take people's property if it's for public use. However, we believe it should be fair and equitable,"one of the apparently worried New Jeshwang residents told this medium.
The residents are concerned about the Physical Planning Department's communication that it has backpedalled on its previous plan to carve out only 1.7m from the compounds to be affected.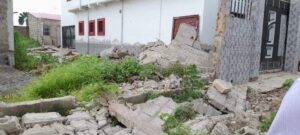 "The Physical Planning has now added 4m to our compound. The reason they advanced was that other compounds are well-built and it will cost them more," lamented one of the residents.
"They are going to upend some people's lives because if you cut 6m from their compounds, they would be left with nothing. They better leave and build a hut somewhere," stated our interlocutor.
Some compounds will be affected at both sides of the road and this has been described as disproportionate.
Meanwhile, the department has also reportedly left the residents with little time to prepare for the exercise.
"They sent us letters last week, warning us to either vacate within 14 days or they will demolish our houses and we will foot the bill," our source revealed.
The houses will also go down first before any compensation payment, this medium has learnt.
The Alkalo of New Jeshwang and the areas legislator have all reportedly denied any knowledge of the proposed demolitions.
The Alkalo will be meeting the residents at 6pm today.