The central mosque of Jabang Estate as well as several parts of the community are still waterlogged and the community's representative is calling for sustainable measures against floods in the area.
In July of this year, several homes in Jabang were overrun by flood waters, displacing residents and causing massive damage to property.
More than a hundred families have yet to recover from the aftershocks of the disaster five months on.
On Wednesday, Nuha S. Barrow highlighted the need and urgency for "lasting solution" to Jabang Estate's susceptibility to seasonal floods.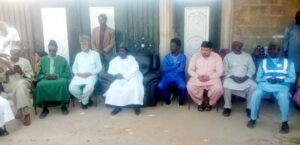 "As we speak, parts of the Estate are flooded. We need the support of the government and SSHFC in the creation of waterways to forestall floods. We've all agreed that the floods were engendered by the blockage of water pathways. We need a lasting solution," Mr. Barrow said of the floods, which are now threatening to become perennial.
He was addressing a gathering of regional authorities, officials of the Ahmadiyya Muslim Jamaa't and community members as Ahmadiyya Jamaa't and Humanity First donated food, cash and clothing to 50 households in Jabang Estate still recuperating from the July floods.