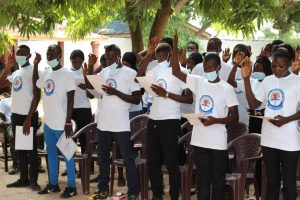 The Gambia National Youth Service Scheme (NYSS) has on Monday 18th October 2021, held a swearing ceremony for its 2nd Batch of Apprenticeship Training Program ( ATP) Corp members.
The colourful ceremony took over a March-Off Parade by Honourable Minister of Youth and Sports led by the Gambia Police Band together with the Board Members of the NYSS at the scheme's grounds in Bakau.
The National Youth Service Scheme (NYSS) is a body answerable for advancing the morale of the youths by allowing them to learn about higher ideals of national achievement, social and cultural improvement.
The NYSS has the responsibility of providing the youths with marketable skills, so that they may secure employment in both the formal and informal sectors.
Mr Emmanuel Mendy, Executive Director described the day as another milestone in the history of the scheme since its inception.
He added that the ceremony marks the 2nd Batch of the ATP Corp members who were recruited throughout the country by the Regional Committees chaired and co-chaired by the Governors and Chief Executive Officers of the Area/ Municipal Councils in line with the provision of the NYSS Act.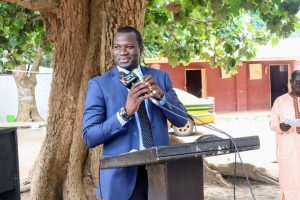 Addressing the new corps members, Mr Bakary Y. Badjie, Minister of Youth and Sports stated that, as the ministry in charge of youth affairs and the government under the leadership of President Adama Barrow is cognizant of the challenges confronting Gambian youths and stands ready to provide the required policy environment and the needed funding to support young people through this most difficult phase of their lives.
Issued by the Ministry of Youth and Sports