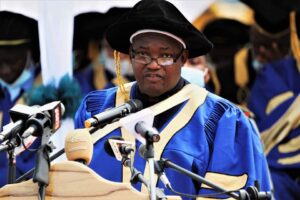 It is my delight and honour to preside over the 14th Convocation Ceremony of the University of The Gambia (UTG).
As this is the first convocation held under the leadership of the current Vice Chancellor, it is proper to publicly congratulate him on his appointment and wish him success. Mr. Vice Chancellor, we wish you all the luck, wisdom and support you need to succeed. Congratulations!
Ladies and gentlemen, today marks a special occasion and a significant turning point for the graduating class and their families, friends, and the nation as a whole. I am pleased, therefore, to congratulate and applaud all of those who have successfully completed their courses to earn either a degree, diploma or certificate from this citadel of knowledge, the UTG.
Since its inception in 2000, the UTG has guided and left lasting imprints on the minds of many young Gambians; most of whom continue to contribute to the development of our country.
Conscious of this, it is not surprising that the UTG has requested me to speak on "National Unity, Patriotism and Nation Building." I have opted to do so briefly and in broad terms, linking them with education and higher educational institutions to address the challenges we face as a country.
Distinguished ladies and gentlemen, the findings of the Truth, Reconciliation and Reparation Commission provide enough evidence indicating that there is an urgent need for Gambians to engage in deep self-examination, and for us to commit ourselves to uniting the nation and building on our diversity and strengths for the welfare of all citizens.
Among other approaches, education must be at the centre of efforts to moderate behaviour, change attitudes and contribute positively to national development and peaceful coexistence. In the process, it is imperative that we value and sustain the noble tenets of good governance, democracy and the rule of law. All these make it necessary to recognise education as a basis for national development.
Excellencies, Distinguished Guests, Ladies and Gentlemen,
Experience clearly shows that formal education plays an important role in nation building, manifestly by facilitating access to knowledge and skills, irrespective of socio-economic background and personal circumstances. Institutions of higher education, in particular, contribute most significantly to character building, besides producing the trained and educated bulk of a country's workforce.
It is in formal educational institutions that values are better examined, understood and internalised. Thus, in institutions of higher education, it is feasible to lay a solid foundation for mature political awareness and participation, define and transmit the concept of patriotism, and strengthen commitment to national unity among students.
Excellencies, Distinguished Ladies and Gentlemen,
Fifteen years ago, one could count the UTG graduates in government institutions. After twenty-two years of existence, there is hardly any public or private institution in The Gambia without a UTG graduate.
We have noticed that many graduates of the University act as agents of development, and they show strength of character, generate creative ideas and have positive mindsets.
Relevantly also, they match their counterparts from other universities, and are doing well outside the country.
This is quite remarkable, and it is what is expected of every respectable educational institution.
It is evident, as a result, that the UTG management and staff appreciate and endeavour to train lifelong learners with the right attitude to tackle challenges, look into the future with confidence and adapt to the ever-changing circumstances of life. It is within this frame of mind that Gambian graduates can build and strengthen the degree of resilience needed for sustainable development and the creation of a just and progressive society.
As the Chancellor, it is clear to me that, as the country's only public university, the UTG is committed to graduating citizens that are not only equipped with knowledge and skills, but also trained with the right character to participate in the collective effort of nation building; in other words, in building a better Gambia for every citizen.
Distinguished ladies and gentlemen, my government acknowledges the role education plays in fostering peaceful coexistence and nation building. We are also fully aware of the crucial part it plays in character formation and development, especially among the youth, who are rightfully regarded as leaders and visionaries in the making.
We genuinely recognise, believe and appreciate the links between education and aptitude, on one hand, and, on the other hand, national unity and patriotism, as well as nation building and stability.
There is no need to refer to research findings on such matters, except to reinforce our beliefs.
In light of this awareness, since 2017, the Government has been relentless in ensuring that we continually improve the quality of education we provide, including the educational programmes offered in tertiary and higher education institutions.
It is common knowledge these days that quality education creates opportunities, and addresses socio-economic disparities, regional inequalities and uneven development, particularly in low-income countries.
Consequently, my government will remain committed to providing accessible quality education country-wide. A key objective for taking this approach is to break the existing social and economic barriers that hinder progress and quality living conditions. Another major objective, of course, is to enable the youth to realise and unleash their full potential.
Noting that life is dynamic, it is necessary to occasionally review and re-define the aims and objectives of education, in order to utilise it as a positive vehicle of change for a peaceful world order.
To be functional, education must help to curb crime and unrest, enhance peace, stability, security and development, and supply adequate resources for the labour market.
I am tempted to propose Education for sustainable sustenance, peace and development as a mantra to be infused into learning processes and embraced as a common vision for society.
For greater impact, it is wise also to adequately accommodate, on our curriculum, the needs of the population, and provide the relevant quality and type of education required to address the negative socio-economic circumstances that characterise some of our communities. Furthermore, the education programmes we deliver should seek to unite our people in nation building endeavours and prevent conflict and disorder.
Ladies and gentlemen, in a genuine democracy like ours, citizens are guaranteed all the freedoms and rights they deserve; however, as patriots, we must avoid division, and put the interest of the nation first.
In this way, differences of opinion would not slow down our march towards a prosperous, peaceful and united Gambia for all of us.
The Gambia is a sovereign state that belongs to all Gambians; so, it is our collective responsibility as patriots to secure the country and make it a happy homeland. With the true spirit of national unity, we can surely achieve our development targets.
Turning to the graduates, let me observe that you have every reason to feel proud of yourselves, and celebrate your well-earned success. We are glad that you are now ready to join the world of work.
With your new status, you will have to safeguard your integrity. Including those already in employment and students from other countries, your performance at work should indicate that you are worthy of your achievements.
As ambassadors of the UTG, remember that success and failure in life can be influenced by five critical factors; namely: hard work, sincerity, commitment, discipline, and honesty. Similarly, peace, hope and courage sustain us as human beings, especially in times of difficulty.
Make the most of the time and opportunities at hand. Consider your new status as graduates to be an obligation for you to give back to society, at least, as much as you have received.
Once again, I congratulate you and wish you every success in your future endeavours.
To the Ministry and the entire higher education community, I say: well done, and keep up the good work.
God bless us all.