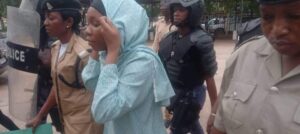 Sainabou Mbye and two of her alleged confederates in crime could not gain their liberty today as the bail application filed by their lawyers was rejected.
They appeared at the Banjul High Court on Wednesday but were returned to the State Central Prison following the denial of their bail application.
However,there appears to be a glimmer of hope for the trio as they could be granted bail on 19 August 2022, in the event the State fails to file a bill of indictment before that date.
The bail requirements are D3m, three Gambian sureties, landed property in the GBA worth D1m and surrender of their travel documents.