Spain is extending a so-called circular migration programme to its first sub-Saharan African country, bringing in at least 100 people from Senegal to work on its farms during the harvest season, a government source said.
The programme, due to start in April, aims to replicate the success of a 22-year-old circular migration scheme with Morocco in which around 15,000 seasonal workers are brought in to work each year in Spain's agricultural sector for a limited time before returning home.
Spain uses circular migration programmes to curb illegal migration while plugging labour shortages in its key agriculture sector, another government source said.
The spotlight was thrown on the risks taken by illegal migrants to Europe with the death of at least 65 people off Italy´s coast on Sunday.
The Senegal plan follows on the heels of a pilot programme with Honduras which brought in 250 workers in 2022. This year, up to 415 Honduran workers and 102 from Ecuador have come to pick berries, staying for an average of five months.
Spain has been grappling with illegal migration from Senegal for decades. In 2006, the arrival of more than 30,000 Senegalese migrants to the Canary Islands was resolved with an agreement for increased vigilance by EU border police of boats leaving Dakar in exchange for aid and a commitment to take in legal workers.
The programme has had its teething problems. A pilot scheme in 2019 failed after only 18 out of 47 Senegalese workers returned home.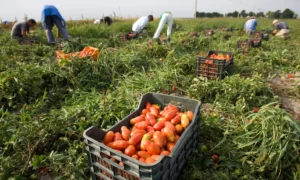 The success of the Moroccan programme was partly due to the selection of women with children as the main participants, providing an incentive for them to return home, said Carmen González Enríquez, senior analyst at the think tank Elcano Royal Institute.
Spain's Migration Ministry has not given details to Reuters on how it has tweaked the selection criteria to make it work this time, and has said that the selection of personnel is up to the Senegalese authorities.
In 2022, all the 17 Senegalese participating in a pilot programme did return home.
(Reuters)