Like a Night Days Wonder, the question as to who sired the late Baby Muhammed is no longer relevant to our national discourse.
All what has now become relevant to the media and social media users is Sainabou Mbye, flaunting her rehabilitated beauty after some time at the notorious Mile II prison.
The public appears to forget so soon that Sainabou was just extricated, in questionable circumstances, of the charge of manslaughter.
Instead of asking the right questions about the death of Baby Muhammed and the man, who raped Sainabou's sister, the focus has now been directed towards Sanabou and her new Lebanese man.
We have a problem with that because we believe that people, who go about fabricating pregnancy stories about others, should not be celebrated.
Certainly, Sai deserves a second chance in life. But is she safe in the society without accountability for her alleged crime?
And, can't she do us a favor by telling us: who exactly put her sister in the family way!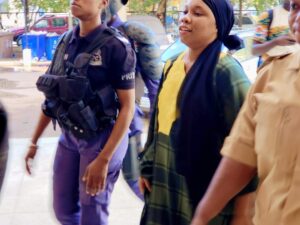 But until such time, especially when we were told that her release was through Sama Arransma, we here at JollofNews are not giving her a second chance.
Meanwhile, the State should immediately institute investigation into the circumstances, leading to the birth of Baby Muhammed.
Impunity is a formula of lawlessness.