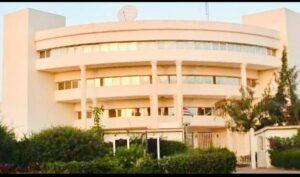 The Chairman of the National Assembly Select Committee On Public Enterprises did not mince his words when he told GRTS top officials on Wednesday that the "poor reception" of the state broadcaster in some parts of the country was unacceptable.
GRTS Director General Malick Jeng and board chair Neneh Macdold were today asked to tighten their belts as regards the outreach of GRTS in order to secure nationwide coverage.
The two GRTS officials on Wednesday took questions from members of the select committee about the state broadcaster's activity report for 2020.
In her response to the concern of Hon. Sanneh, regarding the reach of GRTS, board chair Neneh Macdold-Gaye concurred.
"It is not acceptable to have poor reception in parts of the country," she agreed before committing herself, the board and the management of GRTS to a number of efficiency improvement endeavours such as capacity enhancement for staff through the revitalization of past organizational ties and building new partnerships.