UN Special Rapporteur Mama Fatima Singhateh is currently on a visit to Philippinnes, JollofNews can report.
The former Gambian justice minister is this week expected to meet the Justice Secretary of Philippines to discuss a "macro perspective" of online sexual abuse and exploitation of children.
Madam Singhateh arrived in Philippines on November 28, on the invitation of the government "to examine the child abuse situation in the country".
She is expected to meet Philippines' justice minister on Thursday following which she's also expected to hold a briefing before flying out on December 9th.
"The purpose of the meeting is for Secretary Remulla to express his gratitude to the UN representative for visiting the Philippines and to answer any questions she may still have after her visit to the different local governments around the country," justice ministry spokesperson was quoted by local media as saying.
Meanwhile in March of next year, Singhateh is expected to present to the Human Rights Council a comprehensive report on her visit to Philippinnes.
As part of her visit, she travelled to Manila and is scheduled to visit other cities such Cebu, Angeles, Valenzuela and Cotabato.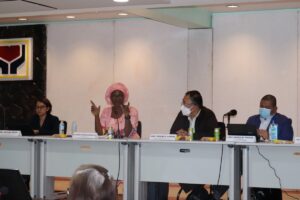 Before she arrived in Philippines, the UN High Commission issued a statement that Madam Singhateh was tasked to gauge the situation and gains registered in combating and preventing the sale and sexual exploitation of children.
The Philippines has emerged as the centre for the production of child sex abuse materials in the world, with 80 percent of Filipino children vulnerable to online sexual abuse, some facilitated even by their own parents, according to a national study on online sexual abuse and exploitation of children, reported a local media.
The study was conducted in 2016 by researchers from De La Salle University for the Department of Social Welfare and Development and Uni another UN body, it added.