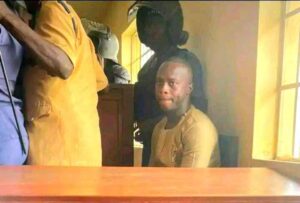 There were ugly scenes at Bundung High Court Thursday as angry mobs clashed with the police following public frustration over the pace of Bob Keita's rape trial.
Mobs thronged the Bundung High Court to demand speedy dispensation of justice but the gathering turned violent as projectiles were being hauled from almost every direction, prompting a tear-gas response from the police.
Some protesters have been rushed to nearby health facilities for medical care .
Bob Keita has been remanded at the State Central Prison for two years now as his case progresses.
But both his lawyer and some section of the population felt the matter was being stalled by the State.
"The snail's pace progress of this case is just not acceptable. If justice delayed is justice denied, what does the State thinks it's doing here," commented Musukebba Sillah when approached by JollofNews.
Musukebba was among many that have apparently grown frustrated at State's handling of the matter.
"Bob is the breadwinner of the family and he deserves to reunite with his family," said Musa Joof.
"We are not here for Bob but we're trying to send a message that abuse of the justice system to torment people will no longer be tolerated in this country," youth activist Assan Corr told JollofNews.
Meanwhile, Bob's lawyer has argued that if anybody was wasting the court's time, it was the State.
The case resumes on Monday.