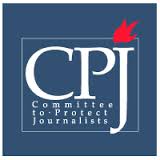 Abuja, Nigeria, July 18, 2014-Nigerian authorities should drop the charges against a publisher who has been held in police custody since Tuesday on accusations of defaming a state governor, the Committee to Protect Journalists said today.
 Police on Tuesday detained Oga Tom Uhia, publisher of the monthly independent Power Steering magazine, Alexander Oketa, his lawyer, told CPJ. Uhia was charged in a lower court on Wednesday with five counts of criminal conspiracy, injurious falsehood, and defamation of character, the lawyer said. The prosecution cited a complaint by Gabriel Suswam, governor of Benue State, according to court documents.
 Oketa told CPJ that police kept Uhia in custody despite the publisher meeting bail conditions of 2 million naira and a surety. If convicted, Uhia could face up to two years in jail and/or a fine. His trial date is scheduled for September 1.
Suswam's complaint stemmed from a June issue of Power Steering that republished the magazine's September 2010 article that questioned whether Suswam was a lawyer. The story alleged that Suswam used a forged academic certificate to gain admission into schools for graduate and post-graduate degrees. The magazine said its investigation was based on published documents and the confession of an individual who said he procured forged documents for Suswam. Suswam has denied the allegations, according to news reports.
In 2010, the police filed similar charges against the magazine, its editor-in-chief, the individual who said he procured the forged documents, and another individual.That case was quashed after a judicial panel indicted the magistrate of the case of "unethical" conduct in favor of Suswam, according to court documents.
 Oketa told CPJ police continued to persecute Uhia despite an April 2014 ruling by a High Court that restricted the police from "entertaining any charge or application pertaining, concerning and relating to the facts" of the case filed in 2010.
"The wrongdoing in this case would appear to be on the part of the police who are flouting the ruling of the High Court," said Peter Nkanga, CPJ's West Africa consultant. "We call on authorities to withdraw all charges against Oga Tom Uhia and release him immediately."
Cletus Akwaya, a spokesman for Suswam, did not respond to CPJ's calls and text messages. In a phone call with CPJ, police spokesman Abayomi Shogunle declined to comment.