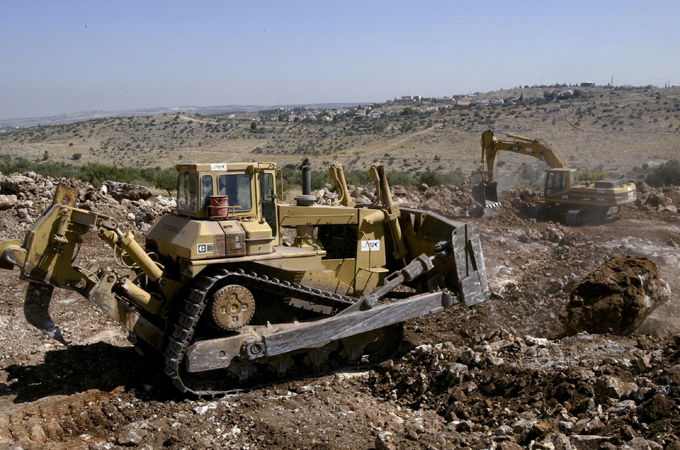 (Editorial) – Human rights and corporate responsibility prompt a US church to divest from companies doing business with Israel. The Boycott, Divestment, and Sanctions (BDS) movement, which aims to pressure Israel to comply with international law and end its military occupation of Palestinian territories, has garnered significant institutional and governmental support in recent years. 
Much of its growth has been in Europe, but the BDS movement is also gaining momentum in mainstream USA.
The Presbyterian Church (USA) voted in June to divest from three companies doing business with Israel: Caterpillar, Motorola Solutions, and Hewlett-Packard.
The three were targeted for selling equipment used to facilitate Israel's illegal activities on occupied land, highlighting yet again the question of corporate responsibility regarding international law and human rights.
Crushed to death
 In 2003, when student activist Rachel Corrie was crushed to death in Gaza as she tried to prevent the razing of a Palestinian home, much attention was directed to the manufacturer of the Israeli bulldozer that killed her.
Caterpillar Inc, the Illinois-based company whose equipment had been used worldwide for over eight decades to build dams, highways, and pipelines and assist in disaster recovery efforts, was now seen by some as complicit in Israel's occupation of the West Bank, Gaza and East Jerusalem.
Israel had been buying and "weaponising" Caterpillar bulldozers then using them to demolish Palestinian homes, build settlements and the separation wall, clear land to build Jewish-only roads, uproot olive and fruit trees, and carry out military operations.
Corrie's parents later brought a federal lawsuit against Caterpillar, charging the company with "…aiding and abetting war crimes and other serious human rights violations on the grounds that the company provided bulldozers to the Israeli Defense Forces (IDF) knowing that they would be used unlawfully to demolish homes and endanger civilians in the Occupied Palestinian Territory (OPT)."
The court ultimately decided that considering the case "would intrude upon the executive branch's foreign policy decisions". 
But, it was Corrie's tragic death that brought Caterpillar to the attention of the Presbyterian Church (USA) Committee on Mission Responsibility Through Investment.
 Since that time, the committee has pursued "progressive engagement" with Caterpillar, Motorola Solutions, and Hewlett-Packard to discuss their accountability regarding "non-peaceful pursuits" in the region. 
After years of correspondence, dialogues, proxy voting, and filing shareholder resolutions, however, the committee concluded that the three companies were not in compliance with church policy. On June 20, the Church voted to divest.
Two years earlier, Morgan Stanley Capital International, a leading evaluator of corporations based on various criteria – downgraded Caterpillar's Environmental, Social and Governance rating, thereby removing it from several of its indices.This prompted the retirement benefits leader Teachers Insurance and Annuity Association of America-College Retirement Equities Fund to divest its holdings from Caterpillar, which the growing BDS movement hailed as a big victory.
In 2012, two more religious groups – the United Methodist Church and the Quaker Friends Fiduciary Corporation – passed resolutions regarding BDS, the former supporting the boycott of products made in Israeli settlements, with the latter divesting its stockholdings in Caterpillar, HP, and Veolia Environnement, a French water, waste and transport management company whose services many say buttress Israel's discriminatory policies.
A year later, several Methodist regional conferences also voted to divest, and the Mennonite Central Committee board voted not to invest knowingly "in companies that benefit from products or services used to perpetrate acts of violence against Palestinians, Israelis and other people groups". 
Business and human rights
Nahida Halaby Gordon, who serves on the steering committee of the Israel Palestine Mission Network of the Presbyterian Church (USA), places responsibility squarely on Caterpillar, HP and Motorola.
"If they see that a given customer is using their products in a regular and inhumane manner … then it is their responsibility to do everything they can to stop such behaviour, and if they cannot, then to stop selling to such customers. This can be clearly done in the case of Israeli occupation forces," she said.
Caterpillar disagrees.
In a statement provided to Al Jazeera, the company states that, "Caterpillar cannot monitor the use of every piece of its equipment around the world."
The company goes on to say, "… we recognise the responsibility companies have to encourage the constructive use of their products."Faris Natour, Director of Human Rights at Business for Social Responsibility, a global nonprofit network that blends business with justice and sustainability, said that this idea comes from the United Nations' 2011 document, Guiding Principles on Business and Human Rights, which provides the framework for the concept of corporations' responsibility to operate with respect for international law and human rights.
Although they are nonbinding, adopting these principles is good for business, avoids negative attention, and is simply the "right thing to do," said Natour.Motorola Solutions offered a brief statement to Al Jazeera which referred to the company's human rights policy, found in the 2013 Corporate Responsibility Report: "Motorola Solutions has a comprehensive set of policies and procedures that addresses human rights, which is designed to ensure that our operations worldwide are conducted using the highest standards of integrity and ethical business conduct applied uniformly and consistently."
However, reading Motorola's human rights policy shows that the company only addresses internal employee issues such as a safe work place and fair wages and working hours. The products Motorola sells to Israel include a communications network and a surveillance system for the army as well as electronic bomb fuzes.
Indeed, in their investigation of Israel's use of drones fitted with missiles in the Gaza war of 2008-2009, Human Rights Watch found debris and missile components with labels from Motorola.
Hewlett-Packard presented the following brief statement regarding the Presbyterian Church (USA) divestment decision: "Respecting human rights is a core value at HP and is embedded in the way we do business. We have strong policies that promote regular human rights risk assessments, provide access to independent grievance mechanisms, prompt investigations of credible allegations and encourage transparent reporting."
These are precisely the policies that Pastor Geoff Browning, a former HP employee and now a Presbyterian campus minister with Progressive Christians @ Stanford University, calls potential " window dressing".
"At this last shareholders' meeting," in 2014, he and others criticised the company's "continued sales and collaboration with the IDF [as] contrary to HP's commitment to social responsibility and human rights. Companies need to be aware that the sales of their products are not neutral or value-less, but are part of and affect their brand", Browning told Al Jazeera.
"Hewlett-Packard provides bio-scanners that are used to racially profile Palestinians and to track and control their movement," explained Anna Baltzer, national organiser for the US Campaign to End the Israeli Occupation, a national coalition that has mobilised support for boycott and divestment efforts.
"It is no overstatement to say that many of these campaigns have dramatically shifted the discourse around Israel/Palestine – in the mainstream media, on university campuses, in the church pews, and beyond – in an unprecedented way," she added.
Guiding Principles
The UN's Guiding Principles statethat the "responsibility to respect human rights requires that business enterprises… Seek to prevent or mitigate adverse human rights impacts that are directly linked to their operations, products or services by their business relationships, even if they have not contributed to those impacts."
The document also places some responsibility on the shoulders of the "home" states of transnational corporations.
The United States' Foreign Military Financing and arms sales to Israel add up to $3.1bn annually, with generous financing terms; this amount provides nearly a quarter of Israel's overall military budget.Although, in an unprecedented measure, Washington granted Tel Aviv the benefit to purchase equipment from Israeli contractors, Israel also procures a significant amount from US-based defence companies, a fact that solidifies the connection between US foreign policy and business agendas.
If the US government considers Israel a strategic partner and provides it with massive amounts of military aid, yet is unwilling to hold it accountable for human rights violations, then why should US businesses be held accountable for US policy?
"Corporations, like any entities, have a responsibility to abide by the law, ethical standards, and international norms. They are not immune," says Baltzer. Indeed, putting pressure on them is one of many efforts under way to influence US policy in the Middle East.
(Souurce: Aljazera)